According to a recent post by Gary Illyes, an analyst at Google, redesigning a website can have a significant impact on its rankings in search engines. Illyes states that search engines use the HTML of a website to understand its content and make sense of it. Therefore, changes to the HTML, such as breaking up paragraphs or removing H tags, can affect the output of the HTML parsers and ultimately change the site's rankings.
Illyes advises website owners to be mindful of these potential impacts during a redesign and to use semantically similar HTML to avoid any negative effects on rankings. He also suggests avoiding the addition of tags where they are not needed.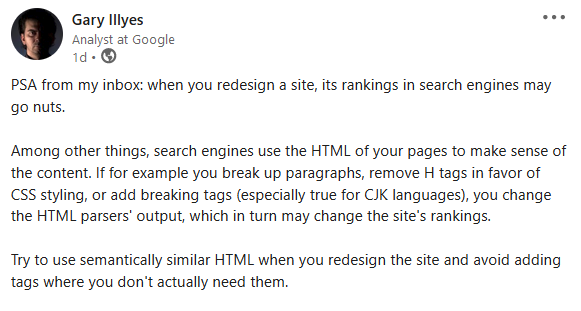 These comments from a Google analyst highlight the importance of being cautious when making changes to a website, particularly when it comes to the HTML structure.
It is worth noting that redesigning a website, if done correctly and following the best practices, can bring many benefits such as better user experience, faster load times, and better conversion rates.